This Fall, Jeannine and David Jordan take their organ and multi-media concert experience, From Sea to Shining Sea, on the road.  Will they be performing in your city?  Check out their performance schedule, add it to your calendar, and plan to enjoy an audience-engaging concert telling the story of the organ coming to America.  The story includes unique American organ music, never-heard-before anecdotes of the lives and times of organists in America, stunning visuals taking you through the ever-changing landscape of early America, and live camera action of Jeannine's work at the organ all projected to a cinematic-sized screen.  Join us for your front-row seat for this instantly engaging concert experience.
Dr. Jeannine Jordan, organist
with
David Jordan, media artist
Friday, September 18, 2015
at 7:30 p.m.
The First Baptist Church of America
Providence, Rhode Island
Sponsored by the Rhode Island Chapter of the
American Guild of Organists
____________
Wednesday, October 21, 2015
at 7:00 p.m.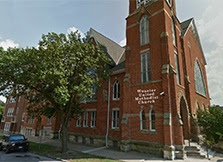 Music on Market
Wooster United Methodist Church
Wooster, Ohio
__________________
__________________
Friday, November 6, 2015
at 7:30 p.m.
First Christian Church
Peoria, IL
Sponsored by the Peoria Chapter of the
American Guild of Organists
__________________
Sunday, November 15, 2015
3:00 p.m.
First Presbyterian Church
Kennewick, Washington
Sponsored by the Columbia Basin Chapter of the
American Guild of Organists
and Rodgers Instruments Corp.__________________Dr. Jeannine Jordan, concert organist